Jurassic World: Dominion Dominates Fandom Wikis - The Loop
Play Sound
Soft Cell's Versions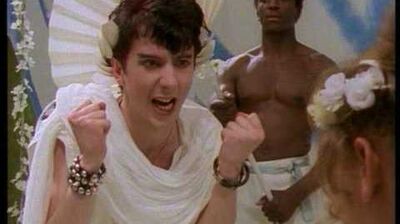 Tainted Love has two videos. The original features features band members Marc Almond and David Ball in togas on Mount Olympus with Marc Almond as Marc Antony and a little girl as Cleopatra. The remixed version features a man pacing at night, dancing with starry apparitions, while Almond sings amongst the stars. This version of the music video was directed by Peter Christopherson of Hipgnosis It ranked #2 on VH1's 100 Greatest One Hit Wonders and #5 on VH1's 100 Greatest One Hit Wonders of the 80's.
Coil's Version
Tainted Love features lead singer John Balance who is dying from AIDS, Christopherson as a hospital orderly and Marc Almond as a leather-clad hospital visitor. Profits from the song went to The Terence Higgins Trust which provids counselling and information on AIDS.
Shades Apart's Version
Tainted Love features a teenage boy trying to impress a girl at her window by pretending to play the guitar and singing the song while the band actually plays it nearby, A crowd gathers by the band start mosh dancing around them. The girl goes outside and finds out about who is really playing the song.
Marilyn Manson's Version
Tainted Love features Manson bringing several goth friends to a high school party. It features several characters from the film Not Another Teen Movie, and Joey Jordison, the drummer from Slipknot.
Milk Inc.'s Version
Scorpions' Version
Milky Chance's Version